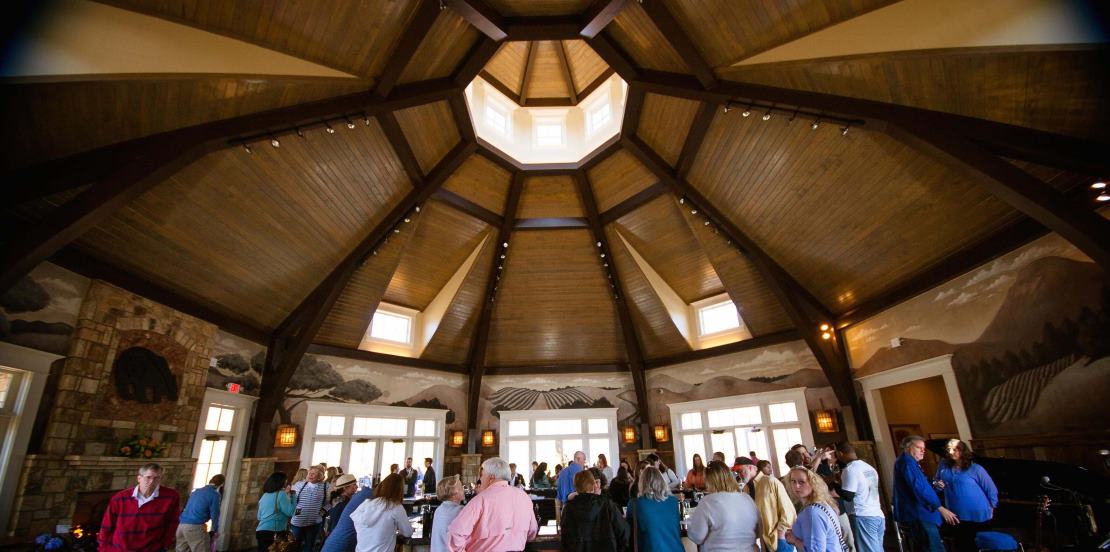 Yonah Mountain Vineyards is a two-hundred acre family winery located on the southeastern base of iconic Yonah Mountain. Making world class wines and enjoying the process is our ultimate goal. Rolling hills and sandy soil are the perfect setting for our twenty planted acres of Sauvignon Blanc, Chardonnay, Petit Manseng, Cabernet Sauvignon, Merlot, Cabernet Franc, Malbec, and Petit Verdot.
The Tasting Room is open to guests seven days a week.  Simply walk-in for a wine tasting, schedule a weekend Cave Tour & Tasting or enjoy the mountainside view with a bottle of wine, there's an experience for everyone.
NEW Wine Tasting Menu
$20 FOR 5 tastings! Choose your journey from White, Red, or a Mix options that are now available! ($15 without glass)
White wine tasting includes:

Young American White Blend
2016 Estate Sauvignon Blanc
2015 Green Label Estate Chardonnay
Young American Rosé
2017 Estate Cuvee Rosé
Red wine tasting includes:

2015 Pinot Noir
2015 Estate Meritage
2015 Merlot
Genesis 8
2016 Steamboat Port (1/2 ounce pour)
Mix wine tasting includes:

2015 Green Label Estate Chardonnay
Young American White Blend
Young American Rosé
Young American Red Blend
Genesis 8
(Available wines and pricing subject to change)
Cave Tour and Tasting

 – Advance Reservations Required.  This 90 minute walking tour and tasting is the best way to get to know Yonah Mountain Vineyards.  Taste eight wines while you tour our winery and only known wine caves in Georgia.  Tasting is $40 per person and includes a take-home Yonah Mountain Vineyard wine glass. Advance Reservation Required. Not available during the Crush Fest weekend (August 25th and 26th, 2018).
Saturdays – 12 Noon, 1:30pm and 3:00pm
Sundays – 1:30pm
Reserve Wine Tasting - Taste Yonah Mountain Vineyards wines versus some of the finest wines from around the world.  Enjoy gourmet charcuterie pairings during this exclusive experience. Limited Seating Available – $100 Per Person (Advance Reservation Required)
LEARN MORE about our Events and Programs 
HOLIDAY CLOSINGS DATES 
New Year's Eve Day, New Year's Day, Easter Day, Christmas Eve Day, Christmas Day
TASTING ROOM HOURS
 (March 1, 2018 - November 1, 2018)
Monday – Thursday          12 pm – 5:00 pm
Friday –                           11:00 am – 6:00 pm
Saturday  –                      11:00 am – 7:30 pm (LIVE MUSIC 11:00am to 3:00pm and 3:30pm to 7:30pm)
Sunday –                         12:30 pm – 6:00 pm
Yonah Mountain Vineyards is located approximately 75 minutes from North Metro Atlanta in Cleveland, Georgia.  This vineyard destination offers mountainside views and handcrafted wines Seven Days a Week.
1717 Highway 255 S | Cleveland, GA | 30528 | (706) 878-5522
 From Atlanta:
Take I85 North
Take I985 North towards Gainesville
Continue on GA 365N/US 23N for 18 Miles
Turn Left onto GA 384N/Duncan Bridge RD SW continue for 11 Miles
Turn Left at 4-way stop onto GA-255 South and Yonah Mountain Vineyards is on Right in 1 Mile.
From Dahlonega:
Follow Morris Moore Pkwy East towards GA-52/State Rte-52
Take Right onto GA-52/State Rte-52 and continue for 7 Miles
Continue on GA-115N/115E for 13 Miles (Thru Cleveland Square)
Take Slight Left onto GA 255 North and Yonah Mountain Vineyards is on Left in 2 Miles.