Ever wonder why our wine bottles and wine glasses are emblazoned with a symbol of a bear? Yonah Mountain Vineyards is a two-hundred-acre family winery located on the southeastern base of iconic Yonah Mountain. The rolling hills and sandy soil of Yonah Mountain provide the perfect setting and climate for a breathtaking vineyard experience.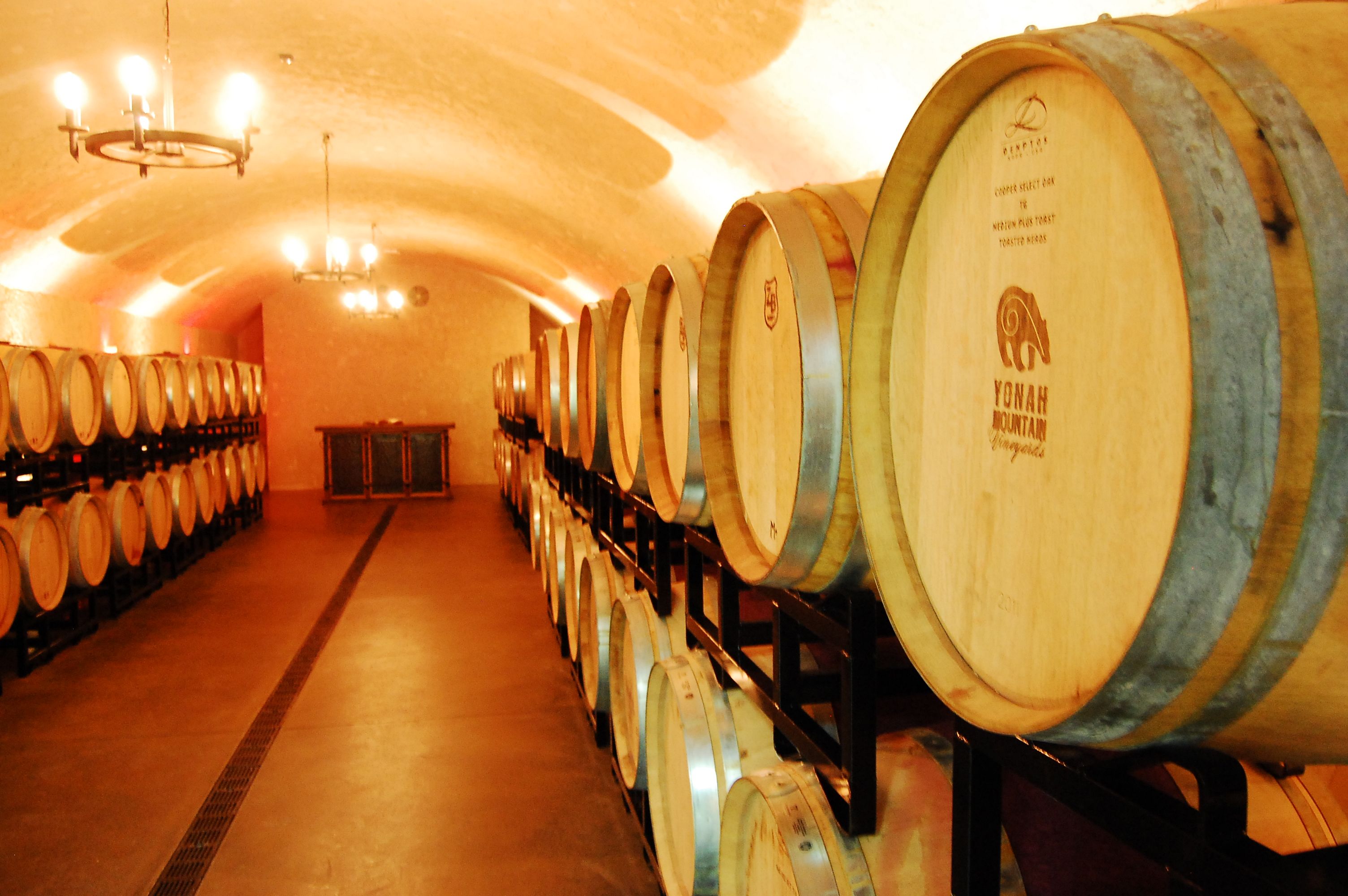 "Yonah" is the Cherokee word for Bear; we pay homage to the history of the grounds and the people who lived here before us by maintaining an eco-friendly winery that respects this beautiful landmark. Yonah Mountain is the historic site of a Native American legend about a beautiful Cherokee maiden named Nacoochee ("Evening Star" in Cherokee). The maiden fell in love with a Chickasaw warrior named Sautee; however, their love was forbidden by the tribal elders due to their differing tribes. Soon after, news of their love reached the elders. A war party was formed. They followed the eloping lovers and threw Sautee off the mountain. Naccoochee then jumped off the mountain in dismay, sharing the same fate as her beloved Sautee.
A Native American Legend
Yonah Mountain was mentioned in Jared Farmer's book "On Zion's Mount: Mormons, Indians, and the American landscape." In the text, Jared describes Geroge Williams' - a son of one of the original white settlers - perspective of Yonah Mountain, a solitary summit at the southern end of the Blue Ridge Mountains:
"As a child, Williams climbed this 'stupendous pile of granite' [Mount Yonah] several times a week in summer; old Indian trails led to the summit. As he recalled, 'This guardian of the valley became as familiar to me as the face of my beloved mother'. He remembered, too, that community groups celebrated holidays such as Independence Day and Christmas on top of Mount Yonah. Thanks to these mountain devotees, Mount Yonah became a legendary spot. The Legend - popularized by Williams though not invented by him - tells of an illicit intertribal love affair between Nacoochee and Sautee. The lovers elope only to be pursued by a war party sent by the bride's father. The trackers find Sautee and barbarously execute him by throwing him off the mountain. After watching, Nacoochee follows Sautee into the spirit world by taking the lover's leap." (Farmer, 313)
We honor Nacoochee and Sautee's love by inscribing a Yonah - Cherokee for bear - on every bottle of wine we produce. We are launching a total solar panel array to power our grounds and operation, which will bring a slew of benefits to the winery, as well as the environment. Our solar-powered system will help save water and eliminate carbon dioxide; we want to preserve the historic grounds that we are lucky enough to grow our grapes on.
Things to do at Yonah Mountain
Yonah Mountain is also a training site for the United States Army! The 5th Ranger Training Battalion, the Ranger Training Brigade, conducts the Mountain Phase of Ranger School on Yonah Mountain. It has been a popular training ground and recreation area for many rock climbers and backpackers. You can hike the Yonah Mountain Trail through a rocky, wildflower-filled forest and climb the iconic mountain to reach exceptional summit views and amazing backpacking campsites.
With incredible views, steep drop-offs and a beautiful rolling landscape, Yonah Mountain (also known as Mt. Yonah) rises from the foothills of Georgia's southern Appalachian Mountains, jutting skyward from the rolling landscape between Cleveland and Helen. The mountain's asymmetrical, massive shape, exposes rock outcrops that lead to its iconic shape and popularity among hikers and climbers. Mt. Yonah is one of the best places in the Southeast for beginner and intermediate level trad climbers, with a fairly simple route-finding system in place. With belay stations and rings located throughout the trail, this is a fantastic stop for outdoorsmen and women. Located in the Chattahoochee National Forest just south of Helen, Georgia, Yonah Mountain is a fantastic destination for climbers, hikers, backpackers, and wine aficionados.
Yonah Mountain Vineyards
After hiking Yonah Mountain, experience our stunning winery located on the southeastern base of the mountain. Our twenty planted acres serve as the perfect planting ground for varieties such as Sauvignon Blanc, Chardonnay, Petit Manseng, Cabernet Sauvignon, Merlot, Cabernet Franc, Malbec, and Petit Verdot. Our tasting room is open to guests seven days a week!
Simply walk-in for a wine tasting and learn what all the fuss is about. Schedule a weekend to visit our one-of-a-kind wine cave (known to be the only one in Georgia) while tasting our wines and take home your very own Yonah Mountain Vineyard wine glass. Take a look at our events page for upcoming festivities, live music, and parties! If you would like to learn more about our vineyard, have any questions, or would like to schedule a wine tasting, give us a call (706) 878-5522!