Crush Fest Frequently Asked Questions
Know Before You Go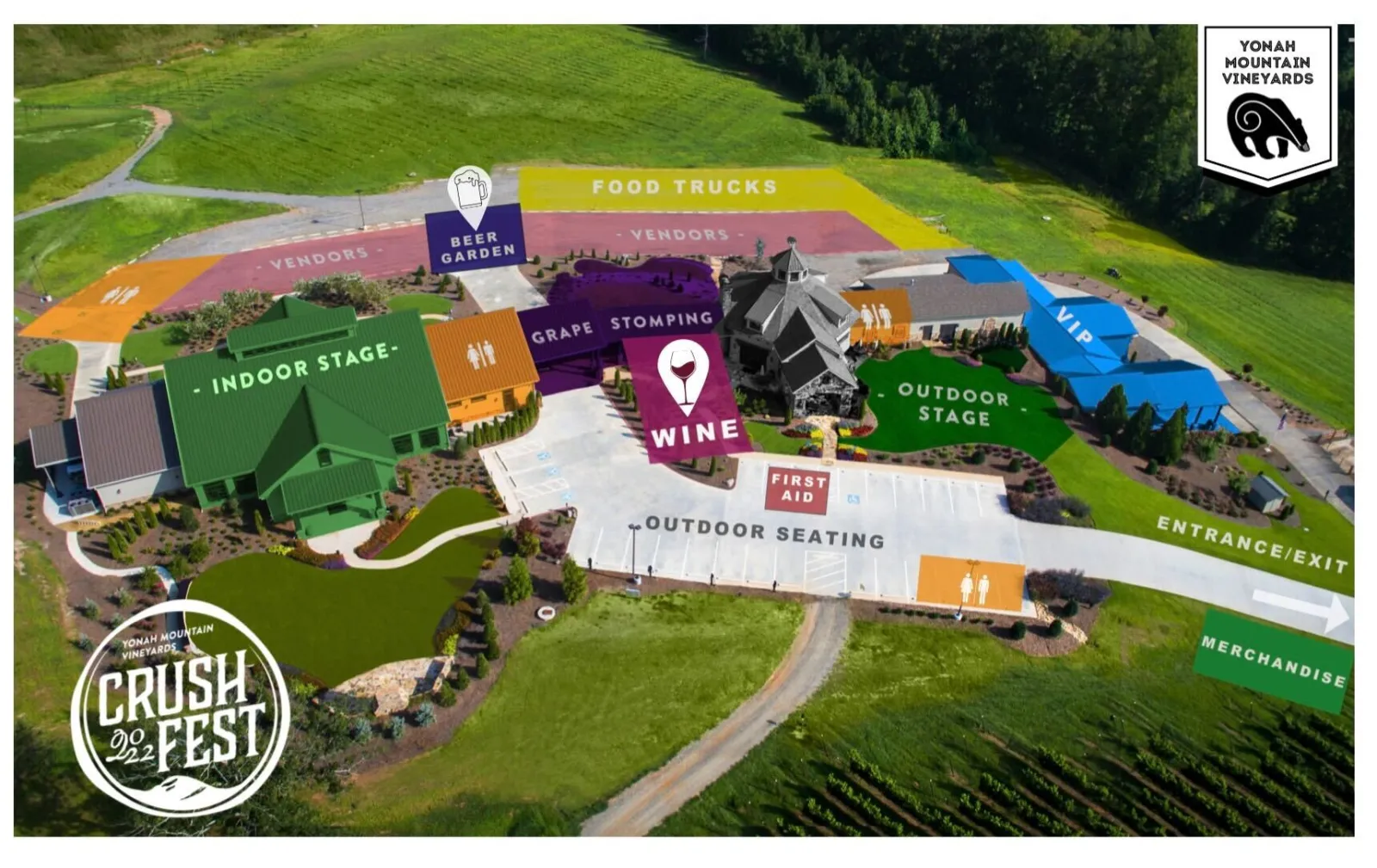 Question #1: When is Crush Fest?
Saturday, August 26th, 2023

Question #2: What time does Crush Fest start?
Crush Fest starts at 12PM. VIP ticket holders have early entrance at 11AM.

Question #3: Are tickets still available?
Online ticket sales will close Friday at noon, buy your tickets today!
***Day-of tickets will be available at the front gate for $60.***
Question #4: Will the Tasting Room be open on Crush Fest?
The Tasting Room will be open for Crush Fest attendees ONLY.You must have a ticket to Crush Fest to visit our winery on Saturday, August 26th. We will resume normal operations on Sunday, August 27th.

Question #5: Can I bring my pet to Crush Fest?
Pets are welcome at Crush Fest in our outdoor areas ONLY and must remain leashed at all times. There will be no pets allowed in VIP sections.

Question #6: Can I bring outside food and drinks?
Outside food and beverages are NOT permitted at Crush Fest. Please enjoy all of the delicious food trucks and drink options that we will have to offer. Complimentary water stations will be provided.

Question #7: Will there be an ATM on site?
No, we do not have an ATM available at Yonah Mountain Vineyards. We recommend keeping some cash on hand for vendors and tips. All major credit cards will be accepted.

Question #8: Can I leave my vehicle overnight at Crush Fest?
No vehicles are allowed to park overnight at Yonah Mountain Vineyards. Crush Fest will end at 6:00 PM and our property gates will close shortly afterwards.

Question #9: How do I participate in grape stomping?
Grape Stomping will occur during the entire duration of the event (check out the Crush Fest map above for the exact location)! The earlier you arrive, the better your chances of getting to grape stomp!

Question #10: Where do I park for Crush Fest?
Staff will direct guests where to park. Complimentary shuttling to the front gate will be provided.

Question #11: How do I check in for Crush Fest?
As you approach the front gate, have your ID ready. Simply provide the name your tickets were purchased under and a valid drivers license to check in.

Question #12: Where can I get wine at Crush Fest?
Check out the digital copy of the Crush Fest map below to locate the Wine Sales area. Here guests can redeem their free pours and purchase additional wine and beverages to enjoy at the festival.

Question #13: What happens if it rains?
Crush Fest is a rain or shine event! There will be no refunds, exchanges, or replacements given in the event of rain.